Following the successes of "West Side Story" and "The Sound of Music," producer-director Robert Wise has temporarily abandoned the world of clefs, sharps and choreography to launch a film of vastly different cloth -- the tumultuous story of China and the Yangtze River in the mid-1920's, Richard McKenna's "The Sand Pebbles."
In scope, this film is indeed comparable to either "West Side Story" or "The Sound of Music" but the fabric, on locations in Taiwan and Hong Kong, is of action-adventure, the men of the gunboat USS "San Pablo" caught in the transition of China, the change from feudalism to nationalism, the ousting of the treaty gunboats.
Some men enter the field of movie direction because they have a creative urge. Some drift into it from the stage, some from other movie jobs. Robert Wise became a director because he was first a movie fan, sitting in the dime matinees Saturday after Saturday as a child. The creative urge stemmed directly from what was on the screen. He wanted to be a part of it.
Wise was born September 10, 1914, in Winchester, Indiana, the son of a meat packer. As a boy he was always attending the movies, often as much as three times a week. Once he won a season pass to a theatre in a contest and spent more than half his summer vacation watching movies.
He was also interested in journalism but his father's business suffered in the depression and he was unable to continue his studies. His brother, David, then an accountant with RKO Studios, managed to get him a job in that studio's cutting department as a messenger.
Wise was fascinated by the way movies were cut and patched together and was often permitted to try his hand. At the end of nine months, he was made an assistant cutter. Gradually, Wise was given important editing assignments, one of which was with Orson Welles on the famous "Citizen Kane." His work on that led to Welles' second film, "The Magnificent Ambersons," which was interrupted when Welles was asked by the U.S. Government to do a film in South America as part of the Good Neighbor policy. In order to complete "Ambersons," Welles let Wise direct several scenes. Wise then began bombarding the studio executives with requests to direct. In 1943 he was editing "The Curse of the Cat People" when the director was removed because he was behind schedule and Wise was given the job. The picture became a great hit and Wise was firmly established as a director.
For the next few years, Wise worked on routine "B" films but he brought to them something more than routine treatment. In 1947 he and producer Theron Warth were preparing "Blood on the Moon." They prepared it so well that the budget became greater than that normally assigned to a Western. Studio production chief, Dore Schary, withstood pressure to have a better-known director do the film and when "Blood on the Moon" became a critical and financial success, Wise was established as a top-flight director.
His films since then have included many of the most artistic Hollywood productions, pictures like "The Set-up," "The Day The Earth Stood Still." "The Desert Rats," "Executive Suite," "Tribute to a Bad Man," "Somebody Up There Likes Me," "Run Silent, Run Deep," and the highly controversial "I Want To Live."
In 1959, Wise was approached by the Mirisch Co. and asked to produce and direct "West Side Story," a highly successful Broadway musical. He agreed on the condition that Jerome Robbins, who had directed the Broadway production, work with him. To Hollywood's surprise, the co-direction plan worked -- and "West Side Story" won ten Academy Awards, including two to Wise for production and direction.
Wise followed the musical with "Two for the Seesaw" and "The Haunting" and was preparing "The Sand Pebbles" when 20th Century-Fox asked him to take over production and direction on "The Sound of Music." Knowing that "The Sand Pebbles" could not get underway for almost a year, Wise accepted the musical as a co-production with his independent company, Argyle Enterprises.
While on "The Sand Pebbles" location in Hong Kong in Spring 1966, at sea aboard the gunboat USS "San Pablo," Wise was notified that he had won the 1965 Academy Award as "Best Director" for "The Sound of Music" and that the film itself, probably the all-time box office champion, had won as "Best Picture." It was also awarded Oscars for best sound, best editing and best scoring. The next musical project for Wise is "Star!" starring Julie Andrews.

Source: The Original Motion Picture Soundtrack album (LP) "The Sand Pebbles" 1966 Twentieth Century Fox Records


---
Robert Wise Links:
Robert Wise on The Sand Pebbles - excerpt from 1998 Motion
Picture Editors Guild interview (2:32)
(.wma)
(.rm)
(.ogg)
UC Berkley: "Conversation with Robert Wise"
TV-NOW Robert Wise film schedule
Robert Wise information on Internet Movie DataBase (IMDB)
Robert Wise - My Hero
Robert Wise - Answers.com
Robert Wise - A Remembrance By Rick Mitchell
Robert Wise - A Journal of the Making of A Storm in Summer
Return to Sand Pebbles Index

Robert Wise:
On McQueen and The Sand Pebbles
RW: I've said this many times, but I've never worked with a star who knew what worked for himself on the screen better than Steve McQueen. I don't mean in every step of his performance. But once in a while we'd be in a scene and he would say, "Bob, I think I can get that over without having to say that line." And he was right. He obviously studied himself, way back to the

Wanted Dead or Alive

TV series, and he knew what worked for him beyond any other actor.

TPV: He is also considered a consummate actor in terms of using props.

RW: Yes, he loved props. I'm sure one of the reasons he wanted to do

The Sand Pebbles

was that he loved motors and engines, and the story is about a man and this big engine. And also it gave him the opportunity to handle those guns. Put a rifle and cartridge belt in his hands and, man, he was in heaven. He loved that. And he did it very well. I would ask him about something and he'd say, "No, you can't do that." He knew his guns.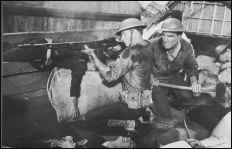 Source: The Perfect Vision, Volume 5, Issue #20, Winter 1994
---
The Sand Pebbles - excerpt from Robert Wise interview (1977)




"The Sand Pebbles has always been one of my favorite films, I suppose because its the most difficult film -- from a physical and logistical standpoint -- that I've ever made. I suppose having suffered through months and months and months of shooting on it, and the weather problems and everything else that went into it, makes a more memorable experience than the others."

"If I had it to do over I suppose I would have simplified the film some. The last I saw it I felt that maybe it would have been better off without the multiple story. Maybe we split our interests too much with the Frenchy/Maily story and would have been better off sticking with Steve (McQueen), Po-Han, the missionaries and the girl and simplifying the story."

Source: Amoruso, Marino and Gallagher, John. "Robert Wise: Part One 'The RKO Years." Grand Illusions (Winter 1977)
---
The Sand Pebbles - excerpt from Robert Wise interview (1995)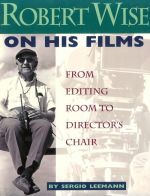 "When I started planning the film, my first choice for Holman was Paul Newman. I had a list of five or six names and at the bottom was Steve McQueen, who I thought would be awfully good in it. I went after Paul, but he felt it was not for him somehow. When I mentioned Steve to the front-office people, they told me he was not big enough to carry such an expensive film. Then I got involved in The Sound of Music. By the time I got back on The Sand Pebbles in the latter part of 1964, Steve had had The Great Escape come out, which was a very popular film, and also Love with the Proper Stranger. I went back to the front office, and they told me that now it would be fine to have him as Holman.

"Of all the stars whom I worked with, I think Steve knew better what worked for him on the screen than any other. He had such a sense of what he could register, and that helped a lot in terms of shaping the character and the script.

"Steve could be a little moody--up some days, down a little on others. He always seemed to work a little bit on the end of his fingertips in the sense of his feelings about things, but he was fine. I only had one incident with him. I was on the boat one morning lining up a shot with the cameraman when Steve, who wasn't in this particular shot, came to talk about some wardrobe matter. I told him,'I'm really involved in the shot right now. That wardrobe is not going to be used for several days, so let`s talk about it later,' He went away and came back a couple of hours later, when I was really in a tense position on another shot. He said, 'Bob, that wardrobe...' I said, 'For Christ's sake, Steve! Can't you see I'm tied up in the shot? Let's talk about it at the end of the day.' Well, his feelings were so hurt that he didn`t speak to me for three days. When I was directing the actor in a scene, he was fine, but he wouldn't say anything off the scene. We used to run our rushes every Sunday morning in the Army post theater in Taipei. That Sunday Steve came to see them and was thrilled. Everything was fine from then on and he started speaking to me again.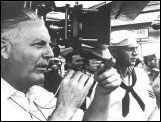 "The Sand Pebbles" was the first time I worked on a film with major water scenes, and that drove me up the wall. Our gunboat was built from scratch in Hong Kong. It was designed with a flat bottom and under the rear deck there were two big diesel engines that actually propelled her for our picture purposes. In Taiwan, I shot in a river called Tam Sui. It was a tidewater river--about one mile out was the China Strait--so I had only a couple of miles of navigable water there, and when the tide was out, my boat would be sitting on the bottom. I had no way of getting the hundreds and hundreds of miles of the Yangtze River there, so all the additional shots of the San Pablo going up the various waters of the Yangtze were shot around the edges of Hong Kong and the mainland there. Hong Kong has no river, nor has the mainland at that point, but off the edge of the mainland and the island are little spots of land. By very carefully placing the camera so that we had a bank on either side, we made it look like the river.

"It's very difficult working with boats in water. Every time we had to make another take, it took a long time to swing her around and get her back in the right position. We had a lot of weather problems in Taiwan. We would often go out with four, five different calls to shoot different scenes, depending on the conditions. If the tide was out, we had to try to shoot things on the deck where you wouldn't see the water. If it was a good day and the wind was blowing from the bow, I had to shoot a certain set of scenes because the smoke would have to match. If the wind was coming from the other way, I'd shoot another set of scenes. I'd have another call if the wind wasn't a factor. I'd have still another one if it was overcast; then I'd be doing a winter scene instead of a summer scene. If the weather was impossible and it rained, as it often did, we'd go inside a small studio in Taipei where we built some cover sets. We went on so long having trouble with the weather that we were running out of cover sets. We had already built the crews quarters on the stage in Hollywood but we got so scared of running out of work that the studio dismantled that set, flew it over to Taipei, and we eventually did all the scenes in the crew's quarters there.

"We were on the shooting schedule for eight and a half months, by far the longest I've ever been on. A great part of it was caused by the irrational weather. It was so frustrating sometimes. When you go out on a day to shoot, it just kills you as a director not to get at least some kind of simple shot, even if it's just an insert. I went out there one day; it was a gray, moody day. There wasn't anything I could shoot. I wanted to get a shot of the stern of the boat with the American flag hanging against this dark, foreboding sky. That was the only thing I could think of shooting until the weather straightened out. We got the shot all lined up. The wind was blowing and we couldn't hold the San Pablo. We had a tugboat on one side trying to hold her. She was swinging back and forth, left and right, ruining everything. Just as we were about to turn the cameras on it, a puff of wind would come, or a cable would break, and she would swing. After two hours, I said, 'That's it! I've had it! Wrap everything up get my shoreboat.' I just couldn`t take it anymore. That was the only time I ever walked off a set. It was the most difficult location I ever tackled.

"I've often wondered if maybe I tried to tell too many stories in The Sand Pebbles. It was a multiple-story film--the story of the ship and the Captain. The story of Holman, the story of Frenchy and Maily, the story of the mission and the missionaries. I've wondered if, in terms of interest and length, I should almost have cut out the Frenchy/Maily story. I would have saved time, but I liked the story and thought that Dick Attenborough and Marayat Andriane were very touching. Also, I wanted to try to do the book and that was a very important part of it. You look back on films sometimes and if they have not been as all-out successful as you anticipated you try to find reasons why maybe it didn't come off for audiences as well as you would have liked."

Excerpt:
Robert Wise on His Films
Sergio Leeman
Silman-James Press - 1995